Eppendorf significantly expands capacities for the production of consumables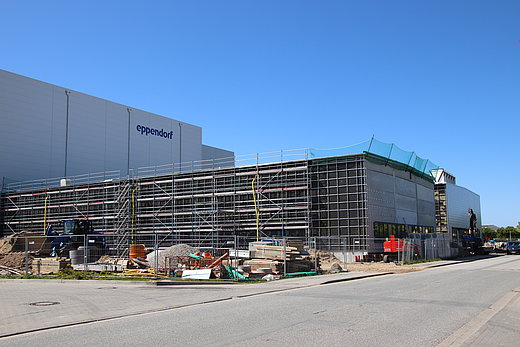 Construction of two additional production halls at the Oldenburg site
Strong capacity expansion by 30 percent from 2021
Hamburg/Oldenburg i. H., Germany, May 15, 2020– The Eppendorf Group is expanding its production capacity at the Oldenburg in Holstein site in Germany by building two additional production halls. As a result, Eppendorf Polymere GmbH, a wholly owned subsidiary of Eppendorf AG, will increase its total capacity by around 30 percent from 2021. A milestone for this targeted expansion was reached May 14, 2020 with the topping-out ceremony for the second hall currently under construction. The first hall has already been completed and will start production operations this month.

In Oldenburg, Eppendorf produces laboratory consumables made of high-quality plastic such as pipette tips and tubes, microtiter plates and single-use bioreactor vessels. Currently, these products are in particularly high demand from diagnostic laboratories and vaccine manufacturers around the world who are researching vaccines against the corona virus or carrying out SARS CoV-2 tests.

"We are registering a steady increase in demand for consumables from Eppendorf. The current global battle against the corona virus is just reinforcing this trend," says Dr. Wilhelm Plüster, Chief Technology Officer at Eppendorf AG. "With the construction of the two new production halls we are responding to this trend, which has been continuing for years. In addition, sustainability was taken into account in the construction of the buildings." continues Plüster. The two production halls will be heated and cooled by an existing combined heat and power plant. This will considerably reduce energy consumption.