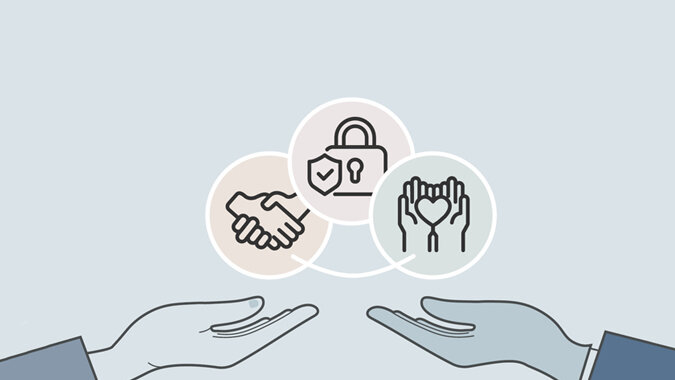 Compliance Line
The Eppendorf Code of Conduct defines how we see ourselves as a company, summarizes rules for our conduct and serves as a binding orientation in legal issues for all of us at Eppendorf. The Code of Conduct is also the basis for our business.
In addition, the Code of Conduct provides information about available reporting channels. These channels offer the possibility for asking questions, expressing concerns, and reporting potential violations of rules, also completely anonymously upon request.
Eppendorf Code of Conduct
Additional Information
Since the Code cannot answer all questions that might arise with regard to our activity at Eppendorf, these general rules in the Code of Conduct are further specified in Eppendorf guidelines which apply locally or throughout the Group.
Eppendorf Code of Conduct for Suppliers
We have prepared a Code of Conduct for our suppliers. We expect that their activities will correspond to the respectively applicable national laws, the principles of the United Nations Local Compact as well as the Code of Conduct for Suppliers.
Eppendorf Code of Conduct for Suppliers
Our Compliance Line receives information about violations of rules
Acting in conformity with the rules has high priority and is a matter of course for us.
In order to continue to meet this standard, it is important to learn about potential misconduct and initiate corresponding measures. The Eppendorf Compliance Line can help and, as a whistleblower system, it is the core of an effective compliance management system. The Eppendorf Compliance Line provides employees, customers, service providers, suppliers and other stakeholders the possibility of providing information about unethical, illegal and irresponsible conduct.
Potential violations of rules can be discovered early as a result of reports so that the occurrence of threatening harm can be prevented in the ideal situation. The Compliance Team investigates every report and handles the results in a transparent yet at all times confidential manner, taking into account the requirements in data protection law.
What can be reported?
We generally welcome every report about potential violations of rules and laws. The Eppendorf Compliance Line can be used, for example, to report violations in the following areas:
corruption, bribery
violation of competition law and antitrust law
infringement of intellectual property rights (patents, use patents, designs, trademarks) and copyrights
violations of provisions for protection of the environment, social standards and human rights, workplace safety provisions and provisions for the protection of health
discrimination, harassment, mobbing, unethical conduct
violation of data protection law and guidelines on information security
violation of other applicable laws and provisions as a result of which Eppendorf becomes subject to penalties, fines or potential recourse.
Misuse of the system. What is the system not supposed to be used for?
Please understand that only violations or misconduct which are relevant for compliance can be handled through the Compliance Line.
However, the system is not supposed to be used for complaints, e.g. in the case of products or for support questions and cannot be misused to denounce others.
Concerns or feedback relating to product quality should be addressed exclusively through our complaint management process. You can reach that department at
Can I also submit a report about a compliance violation anonymously?
The anonymous submission of a report is possible. In this event, we recommend that you set up a post box in our system. This serves the purpose of contacting you if there are any further questions. You also have the possibility at all times to add additional information.
Type and extent of the report content
Reports can be transmitted in the local language or in one of the languages available in the online reporting channel.
In order to be able to reasonably handle and investigate reports, it is important that the report be as specific as possible.
It is helpful if you take into account the following five questions when submitting the report:

Confidentiality, data protection and protection of the whistleblowers
All information and documents provided to us are, of course, treated as confidential. The relevant rules under data protection law are complied with.
The persons entrusted by us with handling the reports are independent in how they handle them, without bias and are not bound by directives. They especially have an obligation to maintain confidentiality.
The identity of the whistleblower is not disclosed to third parties without consent unless there is a legal obligation to do so. Effective protection against all disadvantages or retribution of the whistleblowers is also assured.
Our compliance guideline for issuing and handling reports of violations of rules regulates the process and the corresponding responsibilities. It has the purpose of assuring a fair and always transparent approach. The proportionality for the involved persons and the protection of the whistleblower are taken into account.
Submitting reports and contact information
Specific reports about violations of rules in connection with the business of the Eppendorf Group can be submitted through the following reporting channels:
Contact Compliance Office
PERSONAL/CONFIDENTIAL
Eppendorf SE
Legal, IP & Compliance
Compliance Office
Barkhausenweg 1
22339 Hamburg
Eppendorf Compliance Line
Eppendorf uses the system based BKMS®System (BKMS®Incident Reporting) of Business Keeper GmbH as the so-called Compliance Line. The system is available throughout the year and at all times of the day in various languages and can be reached at the following link: https://www.bkms-system.com/eppendorf.
Incident reporting product film
Purpose of the whistleblower system.
Can any disadvantages result for me from my report?
What happens with my report?
Will my data be treated with confidentiality?
Which personal data are processed?
Who can I contact if I have additional questions or concerns about submitting a report?