Eppendorf builds new site in Wismar for high-tech polymers used in laboratories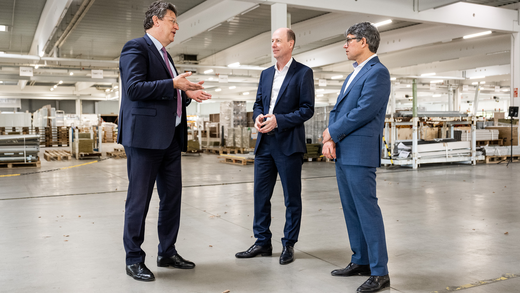 Wismar/Hamburg, April 22, 2022 - The globally active Eppendorf Group is building a new plant for high-quality laboratory consumables made of functional high-tech polymers. To this end, the Hamburg-based life science company is acquiring a former production site at the location of MV Werften Fertigmodule Property GmbH in Wismar in the state of Mecklenburg-Vorpommern, Germany. The site is currently home to more than 20,000 m2 of usable space with production and storage areas as well as office and ancillary buildings. Production of the first high-tech polymer products is scheduled to start at the end of this year.

Eppendorf acquires property and buildings from MV Werften Fertigmodule Property GmbH in Wismar, Germany
Investment in modern high-tech polymer plant
New site has more than 20,000 m2 of usable space
Production to start by the end of the year
"We are very happy that Eppendorf has found a site in Wismar with ideal conditions for implementing its growth strategy. The new production site, which we will set up quickly here, will enable Eppendorf to consistently expand its highly successful laboratory consumables business," said Dr. Peter Fruhstorfer, Co-CEO of Eppendorf SE. "Here in Wismar, we have everything we need for a successful expansion of our production capacities: sufficient space, a very good building infrastructure, ideal transport connections, and many highly trained specialists in the region, whom we want to attract to Eppendorf."

State-of-the-art laboratory consumables for research and development

In Wismar, Eppendorf will manufacture high-quality polymer products for the global market that are absolutely essential for scientific work in the laboratory. These include, for example, pipette tips or reaction vessels for processing laboratory samples. The worldwide market for these products has been growing continuously for years and received an additional boost from the coronavirus pandemic. This global trend will continue in the coming years, and is one in which Eppendorf intends to participate with the new plant in Wismar.
"The addition of the Eppendorf Group to our local businesses is a gain for the region in two respects. A company from a future-oriented industry that creates new high-quality jobs will strengthen the economic power of our state," said Reinhard Meyer, Minister for Economics, Infrastructure, Tourism and Labour of the state of Mecklenburg-Vorpommern. "High-quality laboratory consumables such as pipette tips and reaction vessels for laboratories in hospitals and in diagnostics, chemical, pharmaceutical and biotech businesses around the world will be manufactured here in the future. In addition, an attractive future prospect has been created for Wismar as a location affected by the decline in shipbuilding business: In recruiting employees, Eppendorf expressly wants to draw on skilled workers from the transfer company set up by the shipbuilder MV Werften, and offer them new opportunities."

Dr. Christoph Morgen, insolvency administrator of the MV Werften Group, explained in this context: "We conducted a broad-based search for investors, including the construction, yachts and camping manufacturing sectors. The Minister of Economics, Reinhard Meyer, put us in contact with Eppendorf SE as an interested party. Within just six weeks, we succeeded in forging a good and sustainable solution together. With Eppendorf, a future-oriented industry will locate in Wismar that will create new jobs and offer extensive retraining opportunities to former employees of MV Werften."

With Wismar into the future: Shaping growth in a targeted manner

The main plant for the manufacture of high-tech polymer products in Oldenburg in the state of Schleswig-Holstein has undergone massive expansion in recent years, producing around four billion high-tech polymer products in 2021. Meanwhile, expansion reserves for further growth at the site are very limited.

"We on the Management Board are very confident that Eppendorf's new site in Wismar will enable us to shape the future and growth of the consumables business exactly as we envisage," said Fruhstorfer, adding that the key now is to start production as quickly as possible and to find targeted skilled workers for the new site. This will begin shortly.

The parties have agreed not to disclose the purchase price.

More pictures of the press conference can be found under the following link:https://www.eppendorf.com/pressebilder-wismar/

*Image above: At a press conference in Wismar, Dr. Peter Fruhstorfer, Co-CEO of Eppendorf SE, Reinhard Meyer, Minister of Economic Affairs, Infrastructure, Tourism, and Labor of the State of Mecklenburg-Vorpommern, and Dr. Wilhelm Plüster, Chief Technology Officer of Eppendorf SE, announced that Eppendorf has purchased a former production site at the MV Werften Fertigmodule Property GmbH site in Wismar, where it is building a new plant for high-tech polymers used in laboratories.

About Eppendorf
Eppendorf is a leading life science company that develops and sells instruments, consumables and services for liquid, sample and cell handling in laboratories worldwide. Divided into the business units Liquid Handling, Consumables, Separation & Instrumentation, Bioprocess and Workflow Solutions, the product portfolio includes, for example, pipettes, pipette tips, centrifuges, mixers and ultra-low temperature equipment. In addition, Eppendorf offers a wide range of high-quality consumables.

Eppendorf products are most broadly used in academic and commercial research laboratories, e.g., in companies from the pharmaceutical and biotechnological as well as the chemical and food industries. They are also used in laboratories that perform clinical or environmental analysis, in forensic laboratories and in industrial laboratories where process analysis, production and quality assurance are performed.

Eppendorf has been active since 1945, is headquartered in Hamburg, Germany, and employs about 5,000 employees worldwide. The Group has subsidiaries in 33 countries and is represented in all other continents and important markets by distributors.
Media Contact:
Dr. Ralph Esper
Eppendorf SE
Barkhausenweg 1
22339 Hamburg
Tel.: +49 40 538 01-195
Mobile: +49 170 79 80 778
Mail: esper.r@eppendorf.de