Eppendorf donates 20,000 euros to the EMBL to promote women working in science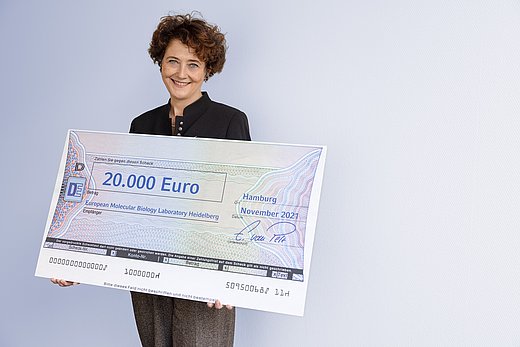 Hamburg, November 22, 2021 – Today, Eppendorf SE donated 20,000 euros to the European Molecular Biology Laboratory (EMBL) during an online presentation ceremony. The funds are for the EMBL project "Advancement of Women in Science," which enables women scientists to begin managerial careers in scientific fields.
In her remarks thanking the company for the donation, Edith Heard, the Director General of the EMBL, described the gift as an important signal for the qualification of women researchers. Heard said the managerial level in the scientific community was characterized by a clear gender-specific imbalance: "To offset this disparity, the EMBL took action in 2020 and initiated a program called 'Leadership and Excellence for Aspiring Women Postdocs' (LEAP) that includes a one-year mentoring and coaching program. This generous donation from Eppendorf will enable 20 additional female postdocs to gain the qualifications they need for managerial careers. We hope that they go on to become group leaders, leading researchers and assistant professors in scientific fields."
Increased visibility for women in science
Inclusion and diversity are important issues at the Eppendorf Group, said Eva van Pelt, Co-CEO of Eppendorf SE: "Solidarity, tolerance and diversity are the defining features of the cosmopolitan culture that Eppendorf fosters and the foundation of the company's success. The disparity between the number of men and women who hold managerial positions in the scientific community is a serious problem. Increasing the visibility of women in science is both a declared goal and an important concern at Eppendorf."
EMBL and Eppendorf: long-time partnership
The EMBL and the Eppendorf Group share a joint history based on many years of collaboration in the area of corporate partnership programs. In addition, the presentation ceremony for the coveted Eppendorf Award for Young European Investigators has been held at the EMBL in Heidelberg for 10 years. The award is presented to recognize world-class performance in life science research by young scientists.