Off the Bench 02/19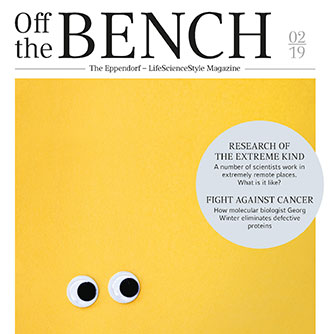 Research is conducted worldwide in order to continue to provide new answers to humanity's most pressing questions.

The driving force behind this effort is curiosity. In the new issue three researchers from different disciplines were asked about their own personal curiosity and which role it plays in their scientific work. You will find their answers in the new dossier – in fact, this issue's dossier is entirely devoted to the phenomenon of curiosity.

The dossier is one of the many new features of "Off the Bench". Better orientation through tighter categories – and therefore clearer organization of topics. This is clearly reflected in the new section "Inside Eppendorf": in eight concise pages you will find novel products and news by Eppendorf, as well as additional services for your demanding laboratory work.

The popular career portrait, which has always been featured on our cover, continues to be a mainstay of the magazine alongside the improvements. You can now find it in the section "Clever Minds". In this issue, we are introducing Georg Winter, a molecular biologist who works tirelessly to eliminate cancer at its source. His groundbreaking research earned the Vienna-born biologist the 2019 "Eppendorf Award for Young European Investigators"- a success which can certainly be attributed in large part to his curiosity.

Learn more and take a look at our magazine!

Off the Bench can be ordered free of charge via magazine@eppendorf.com, or you may subscribe online at News & Media.