BioNews No. 48: Anniversary Edition – 25 Years of Eppendorf BioNews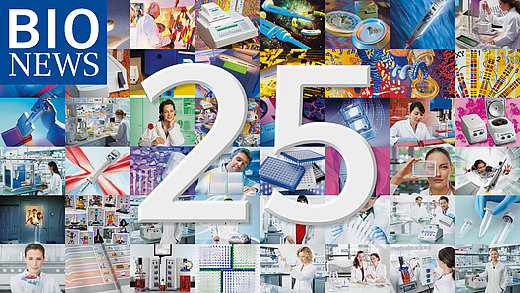 The 25-year anniversary edition of Eppendorf's customer magazine BIONEWS is brimming with reports and Application Notes on a variety of topics: high-density Vero cell perfusion culture, PCR optimization using the innovative 2D-Gradient technology of the Eppendorf Mastercycler® X50, automated KAPA® HyperPlus DNA library preparation for Illumina® sequencing, and lots more!

Tip! Our anniversary prize competition offers a total of five "personalized" pipettes with laser engraving. We'll keep our fingers crossed for you!

Never miss a BioNews edition!
Since 1993, Eppendorf BioNews has been widely regarded as a highly popular source of information for researchers and scientific personnel. Browse the latest edition online at www.eppendorf.com/bionews, or subscribe to BioNews free of charge in order to receive your personal printed issue fresh off the press twice a year!