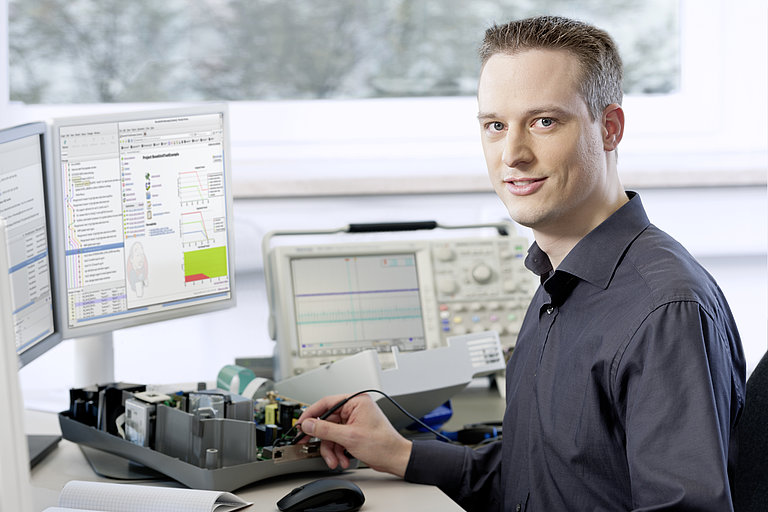 Christian S., engineer employed in the software development division of the Eppendorf Instrumente GmbH.
Why did you decide to go to Eppendorf?

I grew up in Hamburg, so I already knew of the company. A fellow student was working at Eppendorf and told me of how he actually got to put things he had learned during studies into practice - and in a very broad area of application. That peaked my interest, so I applied there. As an engineer, it's great to be able to work with the latest technologies, and to be able to hold the finished product I helped make possible in my hands.

How do you like working with your colleagues at Eppendorf?

Everyone's door is always open, in every sense. All of my colleagues are readily approachable, in case any unanswered questions need clearing up. Short distances and close contact make everything very relaxed and unbureaucratic. The software division as a whole has to do with every product. Of course each of us is assigned to various products like laboratory mixers or thermal cyclers. Now and again, though, you're called upon to assist with other products, which allows for insight into many different areas.

What do you appreciate most about your employment at Eppendorf?

First off, the corporate culture. Everyone is incredibly friendly, almost as if we were a big family. In the halls, everyone says hello, and all you can see is open doors. Also, as an engineer at Eppendorf, I have the opportunity to contribute my ideas throughout the entire development process. That's not really possible in many companies. In other places, all you work on is your specific piece of the project, and then you pass it on to the next person.