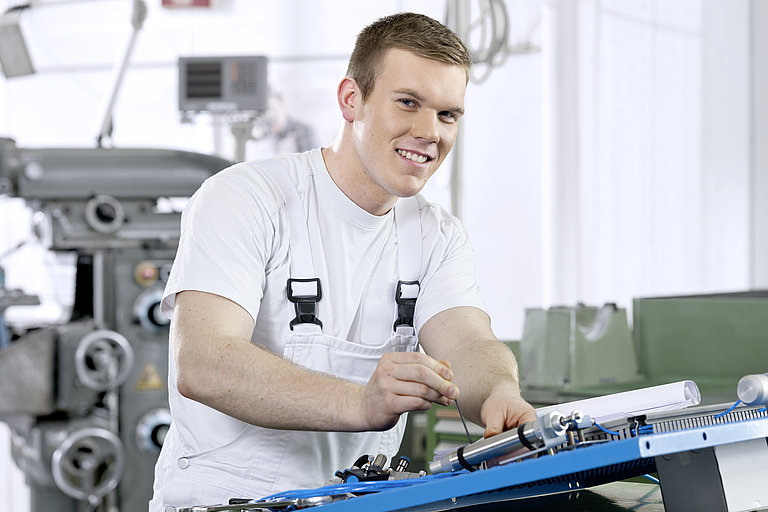 Marvin H., industrial mechanic trainee at Eppendorf Polymere GmbH.
Tell us about your training at Eppendorf!

Eppendorf is well-known in this region as a very good employer. I got to see that for myself when I started training to be an industrial mechanic here after graduation. To start with, I learned about the fundamental methods of metalworking: filing, drilling, milling, sawing and turning. After that, I spent one or two months each in a different manufacturing division; that way, I got to know the entire operation. I'm in my third year now, and I feel just as responsible for smooth production operation as my more experienced colleagues. My main job right now is maintaining and repairing the various facilities and their machines. I have my own checklist, and I decide whether I can do the various maintenance and repair tasks on my own or not. I can even determine the settings for our production facilities, like the filter depth for our tips. That's quite a lot of confidence they have in me.

Where do you see this going for you at Eppendorf?

I already know I can shorten my training time and work full-time in maintenance here. I hope this is just the beginning of a long career at Eppendorf, the work atmosphere here is really good. You're always part of a team, whether you're still a trainee or a full-blown employee! The trainees go for breakfast or lunch together every day. It all really makes you feel at home.

So the bottom line is?

...I'd say 'amazing'! I chose the right path for myself, and I found just the right company to get me there. It's not just the work I do here, it's the little things at Eppendorf; the trainee excursions, for example, where you get to know all the other Eppendorf trainees in Germany.